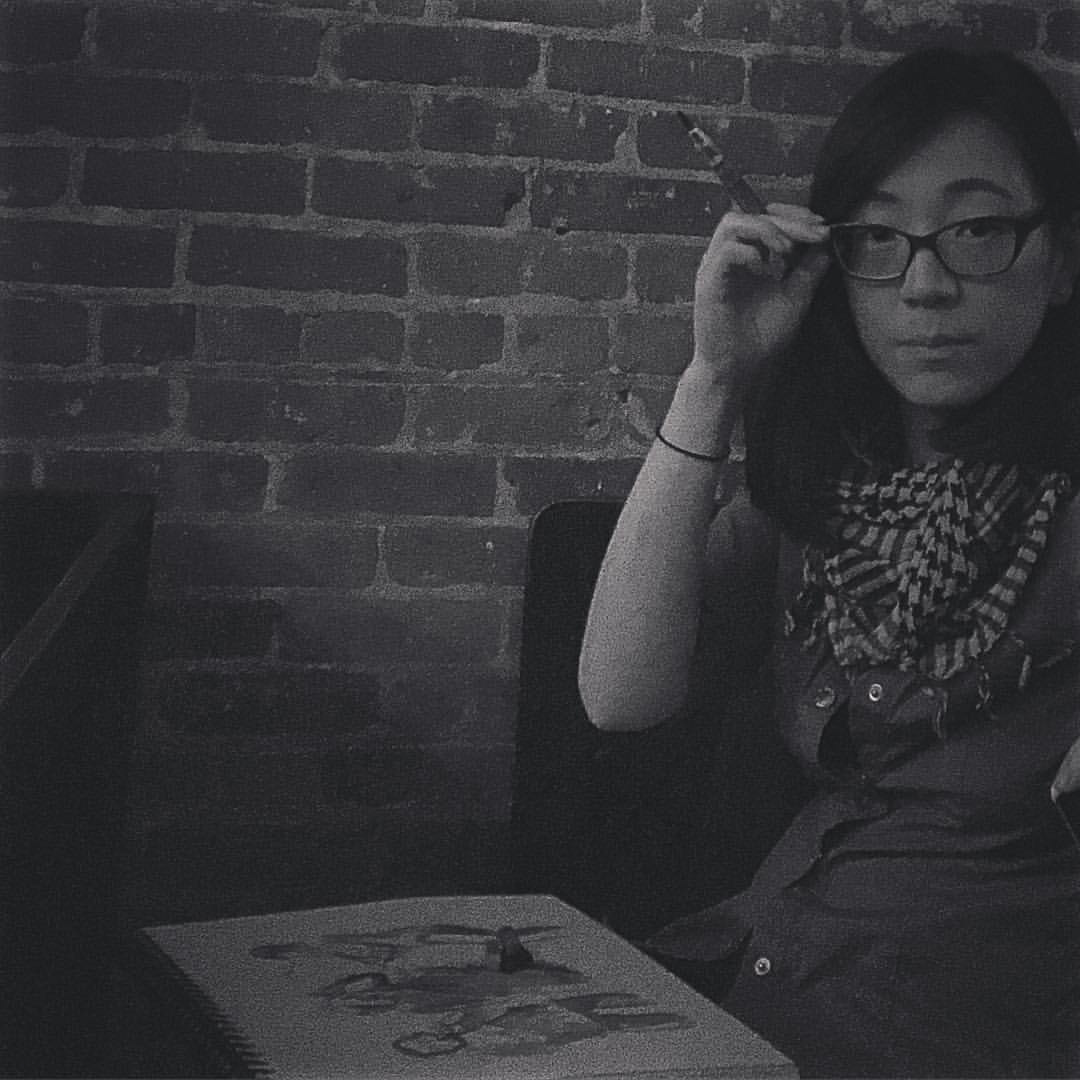 I'm an illustrator, adopted Ko

rean-American
, currently living in Brooklyn. My weapons of choice are ink, paint, and digital, and I'm known for the drama in my images (but only in my images, not so much my life) and my ability to capture likenesses.

If I weren't an illustrator, I'd be a sad accordion player.
I
wouldn't be sad, the accordion would be.
Livedrawing!
In March of 2015, I began to hide in small bars and music venues in Brooklyn (nice dark ones with space for my brushes and paper) and draw the musicians. Just for myself. Decent ones go on my Instagram. People seem to like them.
Are you in one of my drawings?
If so, and you'd like to use my drawing for self-promotion on social media, feel free! Credit to me as the artist in some form is preferrable, of course. If you'd like, email me and I can also send you a high-res scan of the drawing.
Want a drawing?
Let's see if I still have it. (I probably do.) Yes, sometimes I sell them. Email me!
A string of my past:
PAST SHOWS
• March 2018. The Red Envelope Show. Grumpy Bert, Brooklyn, NY
• January 2018. Dialogue. Bessie's, Brooklyn, NY
• November 2017. Now Look Hear. Bessie's, Brooklyn NY
• January 2017. Communication Arts 2017 Illustration Competition—shortlisted
• December 2016. Till We Have Faces. Velvet Cave Gallery, Brooklyn NY
• 2016. Art for Bernie. The Jalopy Theatre and School of Music, Brooklyn NY
• 2015. Roots'n Ruckus Festival, Celebrating 10 Years. The Jalopy Theatre and School of Music, Brooklyn, NY
• 2013. Fun-A-Day Team Boston. Aviary Gallery, Jamaica Plain, MA
• 2011. Fun-A-Day Team Boston. Nave Gallery, Somerville, MA
• 2006. CMYK Magazine Student Competition—winning entry
PREVIOUS CLIENTS
• The Litha Symphony Orchestra, NYC
• Whole Foods Market, Upper West Side, Midtown East, and Swampscott, MA, locations
• The Briar, 92.7 FM Radio Station. Lynchburg, VA
• Ipswich Wildlife Sanctuary. Ipswich, MA
• Anna Tourkakis, Massachusetts-based writer and foodie
• Arielle Apfel, graduate of the London Film School
BACHELOR OF FINE ARTS
Montserrat College of Art, Beverly, MA
Sept. 2002 – June 2006.
• Majored in Illustration
• Graduated with Dean's Honors
Ah, finaly, the email form!